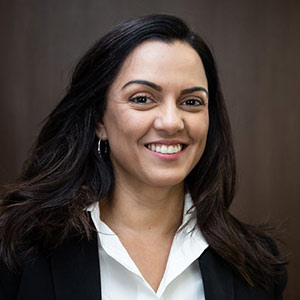 Simone Villaça Aguiar
Born in Rio de Janeiro, Brazil.
Partner since 2004. Registered IP Agent.

Education: LL.B. at Cândido Mendes University (Rio de Janeiro),, 1992; A.L.M. in International Relationships at Harvard University, 2002; Studies in PON (Program on Negotiation) at Harvard Law School, 2001;
Academic activities: Member of Brazilian Intellectual Property Association (ABPI), Brazilian Agency for Industrial Development (ABDI) and São Paulo Association of Intellectual Property (ASPI); Director of International Relations at ASPI between 2015 and 2016; Invited professor in MBA course at Butantan Foundation, 2015 to 2017; Volunteer since 2012 in Crimson Compass Program at Harvard University, for promoting innovative start-ups.
Practice Areas:  Intellectual Property, Civil Law, Contracts, Negotiation, Innovation Policy and Management consulting, IP litigation, Unfair Competition, Fashion Law, Design, Advertising and Media.
Languages: Portuguese, English, French and Spanish.
Contact: villaca@remer.com.br